Franne Golde (fran-ee gold-ee) is a brand founded by women and run by women with a simple mission: making it easy for you to take on the world with confidence and style.
We know that when you look great, you feel great–and confident, passionate people have the power to make everything in our world better. We exist to provide you with quality, flattering essentials that make for a comfortable and versatile wardrobe. From perfect basics to chic accent pieces, we want to set you up to feel and look good.
Our Clothes
We design our clothing with your real life in mind. From wrinkle-resistant tops to pants as flexible as you are, our pieces are crafted for all-day wear. If you're new to our brand, we suggest you start with the Core Collection.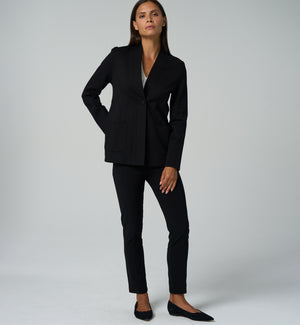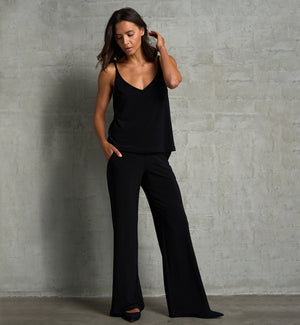 Our Story
Before she took on the task of creating the perfect black pant, Franne had already made her mark as a Grammy-nominated singer-songwriter. But we'll let her you tell you the story herself…
It all started with a pair of pants. After years of looking for the perfect black pant, I had grown exhausted. If only I could combine all my favorites into one! But coming from several decades as an award-winning songwriter, always relying on my ability to create from nothing, I wasn't going to give up. I decided to make the perfect pant myself. I didn't know the first thing about the fashion industry (except for the fact that I'd spent a small fortune contributing to it), but I was determined, and I'd loved everything to do with fashion for as long as I can remember.

I spent years learning, moving forward, stepping back, and making mistakes. I was beyond discouraged so many times, but I kept going, tracking down the right fabric, finding pattern-makers, cutters, and sewers. Then there were the hundreds of tweaks to get the pants exactly how I envisioned them: a long, lean-looking pant that came up to my waist, wouldn't break or pinch, and was forgiving when I ate a good meal.

I wanted the pants a little higher in the back so I didn't feel like pulling them up every time I sat down, and with no zipper or side seams that could add bulk. I wanted pants that moved with my body, smoothed everything out, and were comfortably snug. And I wanted to look sleek and pulled together without shapewear. A tall order? Yes! But I learned that persistence and resilience do make dreams come true.

Today, Franne Golde has expanded to a full line of chic, comfortable essentials. I know that for me, looking my best gives me confidence and energy, which equals feeling great. I want you to feel your absolute best when you wear my clothes, and I want to make getting dressed the least stressful part of your day.

You will find that everything I make is timeless and well thought-out. These are pieces you can wear as a foundation for bolder, statement pieces or as classics on their own. They're great basics that you can live in and layer. Nothing is clingy, boxy, or baggy—just entirely figure-flattering. Here you'll find everything you need, at home or on the road, morning or evening, to enjoy each day in style and comfort.

I know you'll love my passionately sculpted fashion collection.

Love,
Franne